27 Australians among airline dead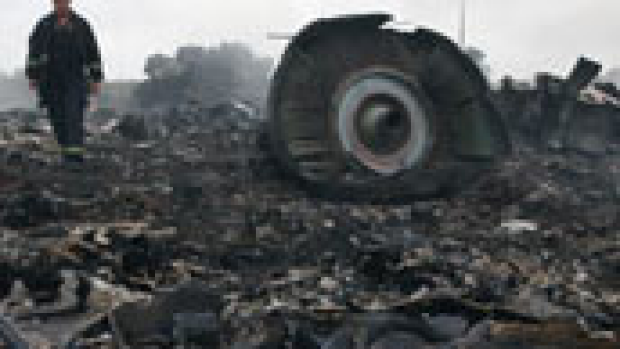 A Malaysia Airlines jet has crashed in rebel-held east Ukraine.
MH17 was carrying 280 passengers and 15 crew memebers.
It's understood there are no survivors.
Dutch officials say there were 27 Australians aboard. Prime Minister Tony Abbott confirmed 'at least 23' Australians were aboard.
The plane was travelling from Amsterdam to Kuala Lumpar.
There is not yet confirmation of what happened to the plane.
The US government says it has information that the plane was shot down by a missile – Vice President Joe Biden said it was 'blown out of sky' in a terrorist attack.
Malaysian Prime Minister Najib Razak says the plane did not make a distress call.
Ukraine's government and pro-Russian insurgents have traded blame for the disaster.
Ukraine's President Petro Poroshenko has labelled it a terrorist act.
'I would like to bring your attention to the fact we are not calling it an accident or a disaster, but an act of terrorism,' he said.
But the rebels have denied any involvement.
A rebel leader blamed the Ukranian airforce for shooting the airliner.
DFAT advises that if you have any concerns for the welfare of family or friends in the region, you should attempt to directly contact them.
If you are unable to contact them and still hold concerns for their welfare, you should call DFAT's 24-hour Consular Emergency Centre on + 61 2 6261 3305 from overseas, or within Australia on 1300 555 135 (local call cost).
Department for Child Protection and Family Support on 1800 032 965
Increase your coverage by reading WAToday's coverage of the tragedy here.
Stay up to date on breaking news with 6PR on Twitter  
People concerned for the welfare of Australian family or friends can contact DFAT's emergency centre on 1300 555 135.
295 dead after Malaysian plane crash
A Malaysian airliner has been reportedly shot down over eastern Ukraine by pro-Russian militants, killing all 295 people aboard.
MH17: Moment of impact 
RAW VISION: Footage has been captured of the moment of impact when MH17 burst into flames as it crashed in East Ukraine.
The Black Box has already been pulled from the burning wreck of the flight and is now being processed for any clues.
A lot of the focus will now be on who is responsible for bringing down the aircraft.
Ukraine claims to have intercepted a phone call of pro-Russian rebels claiming responsibility for the attack, while Russian President Vladamir Putin insists his forces are not involved.
Malaysian Prime Minister Najib Razak says they will get to the bottom of what happened.
27 Australians are among 295 people who are dead after a Malaysian Airlines flight was shot down in rebel held Eastern Ukraine.
The number of Australian casualties has been confirmed by Dutch officials – with the flight en route from Amsterdam to Kuala Lumpur.
Prime Minister Tony Abbott has acknowledged that number of Australians killed is likely – but says the Department of Foreign Affairs is still working to confirm the figure.
Just who is responsible, is unclear at this stage, with both Ukraine and Russia trying to distance themselves from the deadly incident. 
Russian President Vladamir Putin says his forces are not involved, while Ukraine claims to have intercepted a phone call of pro-Russian rebels claiming responsibility for the attack. 
John Stanley & Garry Linnell speak with Peter Stefanovic about the attack, and the current situation in the Ukraine, where he has been reporting from for some time.
Wreckage of MH17 near the Ukrainian town of Shaktarsk. Photo: AFP
Poroshenko: 'Terrorist attack' caused plane crash 
Ukrainian President Petro Poroshenko says a 'terrorist attack' caused the Malaysian Airlines passenger plane to crash in eastern Ukraine.
Shocked world leaders from Washington to Brussels and Berlin joined in calling for an international inquiry to determine the causes of a disaster with potentially huge political implications.   
Diplomats said Britain called for an urgent UN Security Council meeting on Ukraine following the crash.   
The Kremlin said President Vladimir Putin and US President Barack Obama – at loggerheads over a new wave of sanctions over Ukraine – had discussed what Obama called 'a terrible tragedy'.