1 dead and 52 homes lost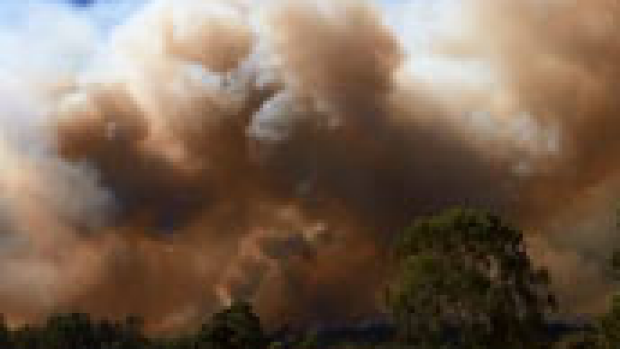 A man has died trying to protect his home from a blaze that started in Parkerville on the weekend. Steve Mills spoke to Emergency Services Minister Joe Francis about the blaze that has destroyed 27 homes so far and the massive operation to bring it under control.
A view of the Parkerville fire, from Mundaring. Photo: Courtney Lewis 
Stay up to date on breaking news with 6PR on Twitter  
Firefighters battle the bushfires on Sunday. Photo: Nine News Perth
A man has died attempting to save his house from a devastating bushfire in the Perth hills that has destroyed at least 27 homes.
St John Ambulance staff say the man collapsed on the roof of his house in Hovea just after noon on Sunday.
St John crews were unable to access the roof despite assistance from the Department of Fire and Emergency Services, and the man died at the scene.
Huge smoke plumes billowed in the Shire of Mundaring. Photo: Courtney Lewis
Despite the efforts of dozens of firefighters and helitac helicopters in atrocious conditions, properties near Parkerville and Stoneville were razed by the fast-moving fire.
Advertisement
One Chidlow resident said he was leaving most of his possessions to the flames.
'There are embers coming down like an ash – we are getting the hell out of here,' he told ABC radio.
A view of the Parkerville fire, from Mundaring, on Sunday. Photo: Courtney Lewis
'We are taking the animals, some clothes and the tax files in a box and we are leaving everything else. If it burns, it doesn't matter.'
The DFES confirmed 27 homes had been lost, and added this number was expected to increase as damage assessments continued into Monday.
More than 100 firefighters and 50 vehicles remained on the scene late on Sunday, as warnings in the area were downgraded to watch-and-act, and waterbombers were deployed to battle the blaze.
Burning embers were being blown around homes, and spot fires were starting up to 150 metres ahead of the fire, the DFES said.
At least two firefighters have been treated for heat exhaustion.
Just before noon on Sunday, residents in the eastern part of Mundaring were told to leave their homes immediately.
Less than 30 minutes later, locals were told it was too late to leave, as it could be deadly if they did.
By 4pm WST, more than 250 hectares had been burnt.
An emergency warning was issued for people after the fire started between Johnson Road and Granite Road at 11am. The cause of the blaze is not yet known.
Flames up to 20 metres high burned towards Richardson Road, Riley Road and Stoneville Road and residents were warned they were in danger and needed to act immediately to survive.
Homes east of Parkerville were in the immediate path of the fire, and emergency authorities confirmed several houses had been destroyed.
Two separate evacuation centres were established, with the Mundaring Recreation Centre filling up with more than 80 evacuees, with a second evacuation centre set up at Brown Park in nearby Swan View.
Mundaring shire president Helen Dullard said they were setting up to have people staying in emergency conditions for days, with Salvation Army volunteers on hand.
'We have got food and accommodation well taken care of, and there will be people staying overnight and not just one night,' Ms Dullard said.
'But we are still in an emergency stage.
'Some are finding out by friends, and because their friends' houses have gone, then theirs has gone. Some aren't sure.
'They are anxious to get home as soon as they can, but are having to wait and that is very difficult for them.'
The blaze in the hills were the worst of a horror day for WA fire authorities, who battled blazes in Wanneroo, Boddington, Denmark, Gosnells, Shark Bay and a major fire in Baldivis.
The fires came after two successive days of 40C heat in Perth, and an oppressive heatwave in the northern part of the state all week.
AAP