Greening the grid a priority for Western Power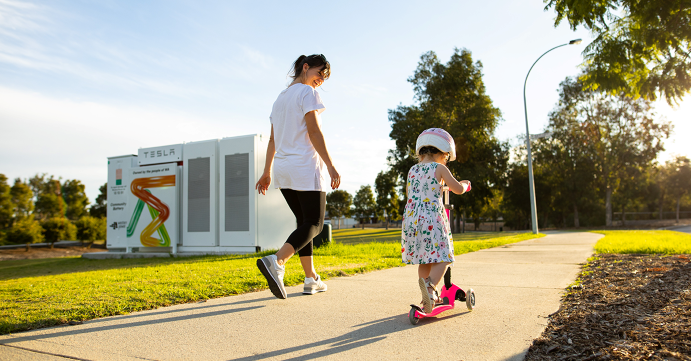 SPONSORED CONTENT
New grid technology like standalone power systems, microgrids and community batteries are helping provide the community a cost effective, safe and reliable power supply.
Not only do they deliver innovative solutions to customers through better quality power, more choices and reliability, they create a more sustainable grid.
Greening the grid is a priority for Western Power – the community wants a greener more sustainable energy supply that delivers on reliability and affordability.
The utility is working with government on the shared path towards decarbonisation, and actively investing to ensure the grid has the technologies needed to increase the share of renewable generation powering our community over the next decade.
Currently around 35 per cent is supplied by renewable sources but Western Power is aiming for this to be 50 per cent by 2031.
Another important growth area is electrification, with the company working on electric vehicles (EVs) and other initiatives to enable industry sectors to reduce emissions by switching to electricity.
Western Power has also introduced LED lighting in streetlights, and began a smart street light trial.
There are currently just over 278,000 streetlights across the Western Power network. LED lights also emit far less carbon than average lights. Estimates have  those streetlights currently creating around 95,000 tonnes of Co2 emissions every year. By switching them through the utility's LED replacement program, a reduction of 45,000 tonnes of carbon emissions could be achieved.
Wind farms are emerging as one of the larger renewable energy generators for the grid. As one of the cheapest sources of renewable energy and with WA being a pretty windy place, more wind farms are being constructed across our state. And Western Power is working to connect them to our network by designing new substations and other infrastructure. This means they can connect hundreds of megawatts of renewable energy into their network and deliver this green energy onto WA customers.
This is in addition to Western Power's work to ensure the protection of biodiversity. WA has such unique biodiversity that we have plants and animals that only live in a particular area. The South West of our state is one of only 34 'Global Biodiversity Hotspots'.
So Western Power is playing its part in protecting WA's biodiversity through vegetation management, careful planning around Indigenous heritage sites and conservation estates to installing possum guards on powerlines and relocating beehives.