Fresh Finesse – French style Apple Tart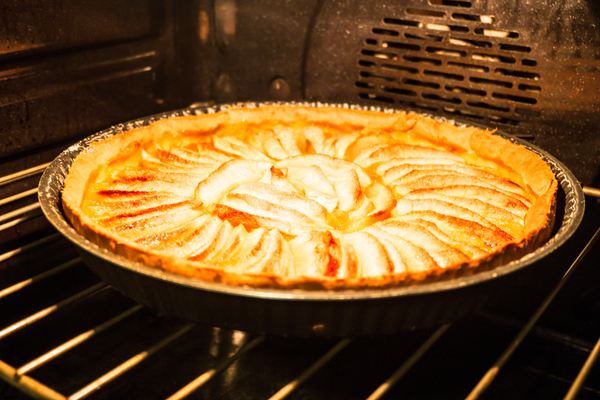 French style Apple Tart
4 red apples, cored, skin on
A squeeze of lemon juice
2 tbsp demerara sugar
A big pinch of ground cinnamon
2 sheets ready rolled puff pastry
4 tbsp apricot conserve
Crème fraîche, to serve
Preheat the oven to 190°c.  Grease a 25cm flan tin. Finely slice into a bowl, tossing them in the lemon juice. Mix through the sugar and cinnamon and set aside.
Allow pastry to room temperature.  Line the flan tin with pastry. Use a sharp knife to trim the edge.  
Arrange the apples in a circular pattern from the outer edge, standing slices on their cut thin edge.  Continue placing apples till the base is fully covered. Chill for 20 minutes if time allows.
Place tart in preheated over and bake for 20–25 minutes, until the pastry is golden and apples tender. Meanwhile, make a glaze by warming the conserve in a pan, then sieve it and brush it over the cooked tart. Serve warm with crème fraîche.
Recipe thanks to Noelene Swan from Fresh Finesse. You can hear Noelene on the Saturday Break with Harvey Deegan at 12:45pm