Fresh Finesse – Beetroot and Fetta with Lentils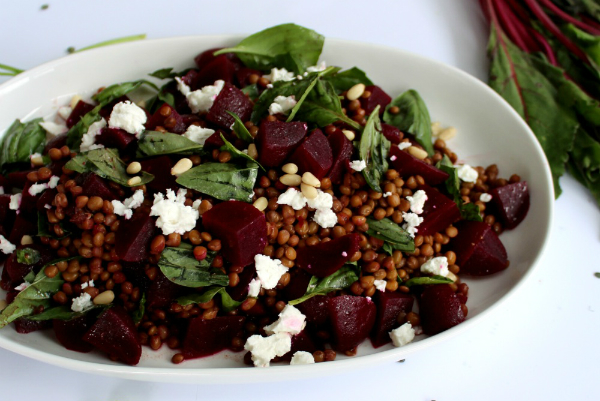 Beetroot and Fetta with Lentils
Use aromatic local garlic and earthy beetroot in this charming spring salad
Preparation: 15 minutes
Cooking: 40 minutes
Serves: 4
2 cups cooked small green lentils (Puy)
4 medium/large beetroot (approx 1kg, stems intact)
4 cloves local garlic, skin intact
100 g good quality fetta cheese, crumbled
1/2 cup marjoram leaves
2 tblspn red wine vinegar
1/2 cup extra virgin olive oil
Freshly ground black pepper and salt to taste
Cooked ham, pork or lamb (optional)
Pre-heat oven to 220c. Place each beetroot bulb with a small clove of garlic on a
piece of foil and drizzle with olive oil. Wrap these into small parcels and place in a
roasting pan. Roast for approximately 40 minutes, until the beetroot is tender when
pierced with a fork. Remove from oven. Allow to cool, peel, remove the stems, and then slice
the beetroot into thick chunks. Combine the lentils, beetroot, feta and marjoram in a large
bowl and gently toss. Combine the vinegar and remaining olive oil in a jar and squeeze in
the garlic puree from the roasted cloves. Mix well and drizzle over the lentil mixture. Season well with salt and pepper. Slices of cooked ham, pork or lamb may be mixed through before serving.
Recipe thanks to Neolene Swain from Fresh Finesse.
New recipe every Saturday at 1:35pm with Noelene and Harvey Deegan.