A Breakfast with Adam Simpson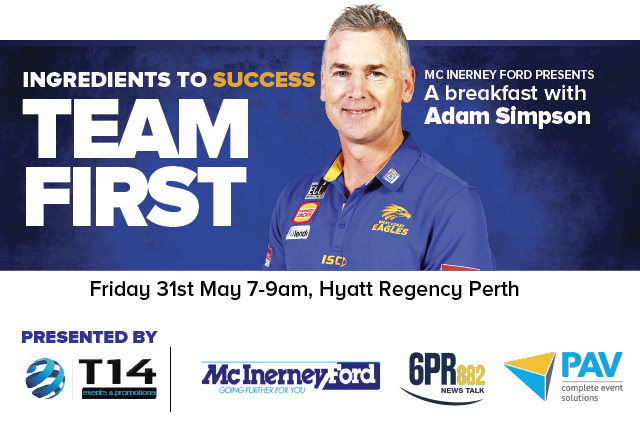 We all know the story. The team from the West given no chance in season 2018 tipped to finish outside the eight by many media commentators and so called experts.
How did Adam Simpson defy the odds to take the Eagles to the Flag?
How did critical loss of personnel galvanise the group to achieve the ultimate glory?
How did the team become empowered to make their own destiny?
Becoming the best is not an overnight journey. Hear Adam's approach to getting the most from his players, and his journey over the past 5 years. More importantly how to apply this thinking to your business and personal life.
Join us for T14's 3rd edition of "Breakfast with the Premiership Coach."
Friday 31st May
6.30am for 7am start, 9am finish
Hyatt Regency Perth
Tickets at Ticketmaster, or contact mick@downunderevents.com.au for general enquiries or table bookings.