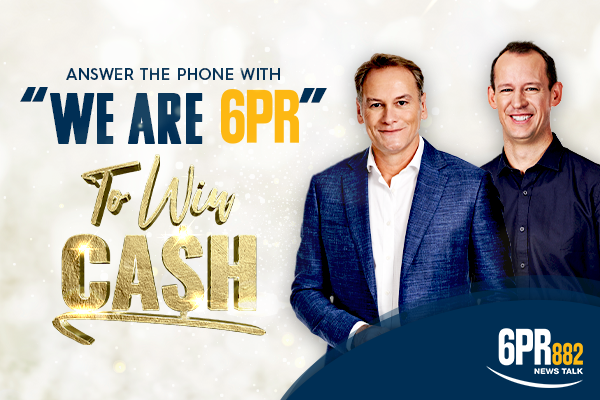 Your chance to be a big cash winner is back!!
Every weekday from Monday 8th February, 6PR is giving you the chance to share in huge cash prizes with "We are 6PR"!
To put yourself in the running, enter your details below – then keep listening to 6PR's Gareth Parker and Liam Bartlett as they give you the code-word for a chance to win $1000… Miss the code-word and the money jackpots.
We'll select phone numbers at random from those who have entered, then Gareth Parker or Liam Bartlett could be calling you!
If the person called answers the phone within 15 seconds – and says "We are 6PR" as the first words spoken, they will win $100 cash.
If they do – they'll then be asked if they know the codeword said in Breakfast with Gareth Parker or Mornings with Liam Bartlett.
If they know the correct codeword, they'll win an additional $1,000!
If they don't know the codeword, the cash jackpots by $1,000 for the next call.
So don't miss your chance to win CASH!
Keep listening to 6PR – and remember to answer your phone with "We are 6PR"!
For full terms and conditions please click here.